img. Promoter Digital Gallery CC-BY-NC-ND.
In the framework of DSI4 project, in the strand of work for capacity building and "train the trainers" effort, a joint webinar is organized by Euroclio and Photoconsortium to experiment and develop skills about reusing digital cultural content in educational resources.
The webinar will leverage on one hand on the freely reusable collections published in Europeana by Photoconsortium content partners, and on the other hand on the tools and resources of Historiana, the educational portal developed by Euroclio.
The event is organized in 3 online sessions between May and July 2022, and will involve the creative participation of cultural heritage institutions, teachers and students who will work together on three steps:
20th May h. 10-11.30: analysing and identifying a number of nice Europeana collections that are suitable for educational reuse, in the context of different thematic frameworks chosen by the participants
27th May h. 10-11.30: reusing the collections to create models for e-learning activities in Historiana, to be used by teachers and students of secondary schools and university courses
7th July h. 10-11.30: evaluation and discussion about the expected impact, moderated by Euroclio experts
For more information: info@photoconsortium.net
---
About Historiana and Photoconsortium
Historiana is an on-line educational multimedia tool that offers students multi-perspective, cross-border and comparative historical sources to supplement their national history textbooks. Historiana is co-funded by the European Union and is part of the satellite networks of Europeana, the European digital library. With plenty of ideas and ready-to-use learning resources, Historiana helps teachers in reusing open access cultural heritage materials online for boosting their lessons, or engaging their students in an innovative way.
In this highly modern educational context, Photoconsortium has its own spot in this great collections of resources dedicated to teachers and students, to offer selected visual content available for educational reuse and ready-made activities based on historical photographic heritage that is sourced from Photoconsortium's partners collections in Europeana.
Discover all the resources: https://historiana.eu/partners/photoconsortium
Currently, the page offers highlights from the great photographic collections of CRDI / Ajuntament de Girona, with e-learning activities dedicated to the history of the 1950s.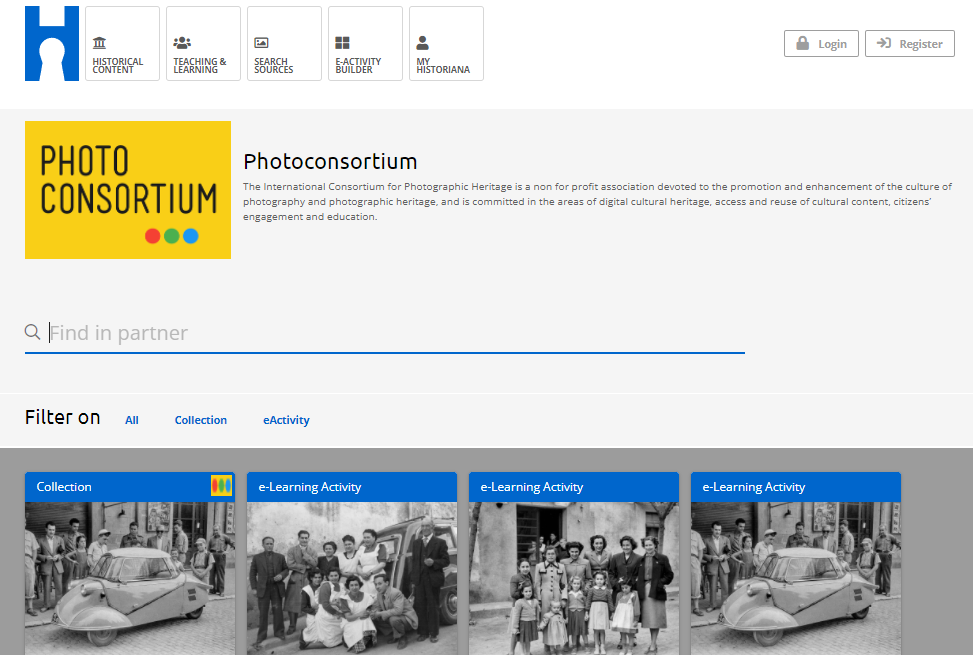 This effort is also part of the Europeana DSI4 project's activities for supporting capacity building in the area of digital transformation kf the education and cultural sector.
Discover Historiana: https://historiana.eu/