img. from video, courtesy of Photoconsortium and Euroclio
In the framework of DSI4 project, in the strand of work for capacity building and "train the trainers" effort, a joint webinar was organized in 3 online sessions between May and July 2022 by Euroclio and Photoconsortium, to experiment and develop skills about reusing digital cultural content in educational resources.
On the occasion of the Europeana 2022 Conference "Making Digital Culture Count" we presented the stories from this nice experience in a short video, narrated by Antonella Fresa (Photoconsortium's Vicepresident), Valentina Bachi (Photoconsortium's project manager) and Alice Modena (Euroclio Deputy Director, and Historiana Project Manager).
The outcomes of the workshop were multifold:
teachers discovered opportunities of reusing photographic collections in eLearning activities
content providers better understood the needs of teachers for enabling said reuse
ideas for collaborations and future work came out on both sides and will be explored by Photoconsortium and Euroclio in the next actions in 2023
more concretely, new source collections and eLearning activities were published in Historiana.
---
About Historiana and Photoconsortium
Historiana is an on-line educational multimedia tool that offers students multi-perspective, cross-border and comparative historical sources to supplement their national history textbooks. Historiana is co-funded by the European Union and is part of the satellite networks of Europeana, the European digital library. With plenty of ideas and ready-to-use learning resources, Historiana helps teachers in reusing open access cultural heritage materials online for boosting their lessons, or engaging their students in an innovative way.
In this highly modern educational context, Photoconsortium has its own spot in this great collections of resources dedicated to teachers and students, to offer selected visual content available for educational reuse and ready-made activities based on historical photographic heritage that is sourced from Photoconsortium's partners collections in Europeana.
Discover all the resources: https://historiana.eu/partners/photoconsortium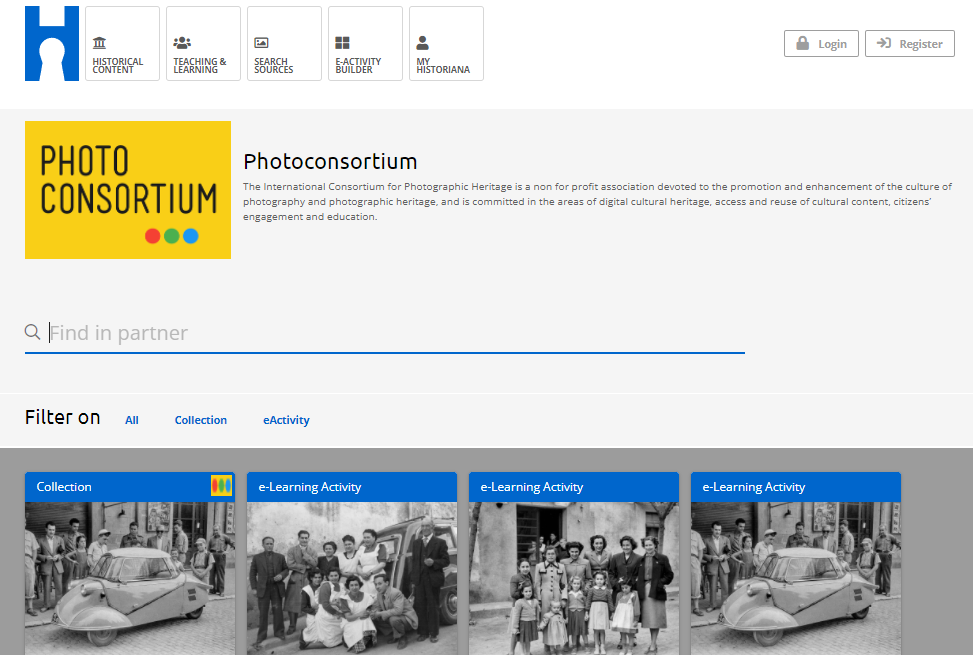 This effort is also part of the Europeana DSI4 project's activities for supporting capacity building in the area of digital transformation kf the education and cultural sector.
Discover Historiana: https://historiana.eu/