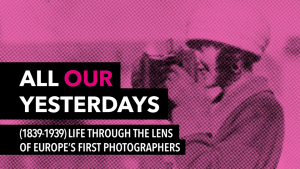 This gallery, featuring a kaleidoscope of early photographic masterpieces, selected by 18 museums, archives and photo agencies, showcases how the camera has, from the very beginning of photographic history, captured the world from its most beautiful angles as well as its most dramatic days. The original themes of the gallery represent eight main topics: The city lives | living the city; The art of portrait; Yesterday's children; Hardship and drama; The eye of beholder; Photographer at work!; Joy & leisure; A brave new world. In addition, a History of Photography explains in three milestones the developments of this new art form. These are accessible from the menu on the right.
All Our Yesterdays has been also an exhibition on show in Italy (Pisa, April – May 2014), in Belgium (Leuven, February – March 2015) and in Denmark (Copenhagen, May – August 2015). The third edition in Denmark featured the participation of award winner photographer Mads Nissen. Until December 2017 it was on show in Sant Cugat, Barcelona.
Credits All Our Yesterdays
Exhibition team: Pietro Masi (Promoter srl) and Sofie Taes (KU Leuven), curators; Antonella Fresa (Promoter srl) and Frederik Truyen (KU Leuven), concept.
Catalogue editorial board: Sofie Taes (KU Leuven), concept, texts and final editing; John Balean (TopFoto), David Iglésias Franch (CRDI), Bruno Vandermeulen (KU Leuven), essays and editing.
Photographs by the partners and associated partners of Europeana Photography project.
References