A photographic perspective on the 1950s in Europe
Bouffants, polka dots, Balenciaga, Vespa, Rockabilly, Stepford chic: the list of iconic fifties-phenomena is nearly endless, as is the number of fifties-tropes that permeate our culture and media. Which 1950s image is etched in your memory? A family gathered around a Sunday roast? A Volkswagen Microbus or a pink Cadillac? Buddy Holly's horn rimmed glasses or Sophia Loren's hourglass figure? Your first television set and washing machine? Or Barbie and Scrabble entering your toy collection?
What most of us share with contemporary accounts, is the view of the fifties as a time of intrinsic happiness: a modern-age, bright-coloured paradise. Horrors from the past were gone forever; a wrinkled tie or collapsed soufflé the only worries left. This rosy outlook, frozen in our collective memory, has probably been fed by the nostalgia of the baby-boom, but yet in recent years a more holistic view has taken root. For long months the consortium involved in the EU-funded project Fifties in Europe Kaleidoscope has been diving into collections of libraries, archives and commercial agencies across Europe, to trace the tracks of the fifties in photography, and to create an exhibition about the emergence of modern-day Europe, taking into account that political situations and living standards were very different across the continent.

And while rock 'n' roll and strawberry milkshakes brought about a sweet taste of America, another superpower was causing 'red panic'. Profusion and stress, rebellion and repression, aspiration and anxiety made for an explosive mix that, in the end, would bring about a wind of change. We warmly invite you to explore our photographs and stories, hand-picked and carefully curated to trigger your memory, challenge your perception and leave you longing for more.
---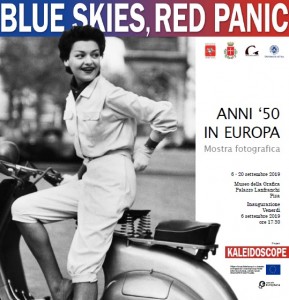 Vernissage: 6th September 2019 h. 17.30
Museo della Grafica, Palazzo Lanfranchi
Lungarno Galilei 9 – Pisa
The exhibition in Pisa saw a collaboration with Museo Piaggio, Fondazione Pisa and Fondazione Palazzo Blu, enriching the BLUE SKIES, RED PANIC exhibition with an original Vespa from 1957 and a selection of images from the local exhibition Gli Anni '50, Immagini di un decennio a Pisa which was displayed at Palazzo Blu in 2018.