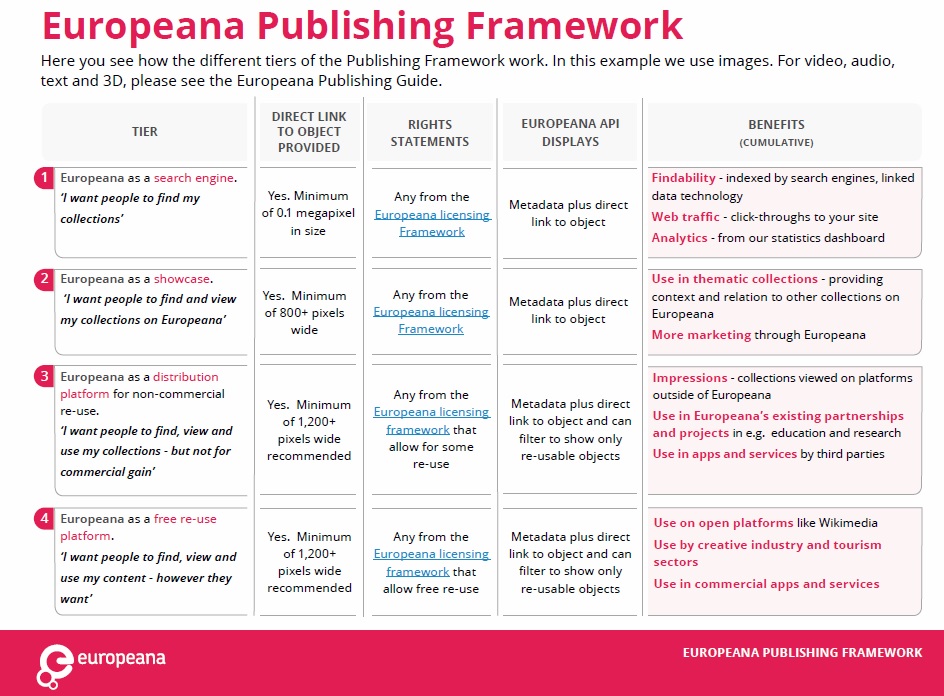 Europeana.eu, the European digital library, collects digitized cultural heritage from over 3.000 content providers in Europe, offering users of any kind access to +50 million objects of their interest.
For content holders, Europeana is a golden opportunity to display their content to a vast international audience and redirect traffic of interested users to their websites. In order to allow Europeana become a showcase, the quality of data to be exposed is really crucial. Micro images, huge watermarks, poor descriptions and restrictive licenses may help the content provider possibly protect their copyright, but certainly do not help achieving visibility of the online collection in the cyberspace.
That's why Photoconsortium supports and advocates for alignment to Europeana's Publishing Framework under the motto "the more you give, the more you get", as summarized in the image above, in terms of:
compliance to minimum tier 2 of the EPF, which means a direct link to an image online with minimum 800 pixel size
no watermarks or non obtrusive
rights label (license of use) as open as possible, particularly supporting the new licence "In Copyright for Educational re-use"
Next to advocating for high quality, richly described, as much open as possible beautiful images, Photoconsortium curates two dedicated collections in Europeana that highlight such content at its best:
Europeana Photography: The thematic platform on photography contains over 1 million high-quality images, and invites visitors to explore its treasures by using the search bar or browsing options. Furthermore, users are guided through the content more intently via a plethora of curated features, from predefined queries and blog posts, to picture galleries and large-scale exhibitions – all handpicked and narrated by PHOTOCONSORTIUM curators.
Europeana Migration: at a time when the word 'migrant' is often accompanied by the word 'crisis', PHOTOCONSORTIUM is joining Europeana in its efforts to show Europe's history of migration in a different light. Through a thematic collection containing a varied range of objects from all over the continent, stories great and small tell the tale of our past (and present!) as a product of many cultural influences.
To learn more about the Europeana Publishing Framework, and all the requirements and recommendations to participate in the thematic collections, get in touch with the experts of Photoconsortium Metadata Taskforce and discover how your online content can be powered to boost the visibility of your cultural treasures.