image source: Internet.
PHOTOCONSORTIUM was presented in a panel session entitled "From Digitization to Preservation, Creative Re-use of Cultural Content and Citizen Participation" at the important event DIGITAL HERITAGE 2015 in Granada (28 September – 2 October 2015).
The panel, moderated by Photoconsortium vicepresident Dr Antonella Fresa, featured the participation of relevant speakers from key institutions in Europe which are involved in the scenario of digital cultural Heritage, among whom Photoconsortium president prof. Fred Truyen.
"Federated" world congress of the leading international societies, organisations and events around IT for heritage, the big Granada event brought together for the second time VSMM, Eurographics GCH, Arqueologica 2.0, Archaeovirtual and special events from CAA, CIPA, Space2Place, ICOMOS, ICIP and many more, all in one venue with a prestigious joint publication. A ground-breaking public display of cutting edge digital heritage projects graced the conference venue at Granada's Alhambra and Sciences Park museum.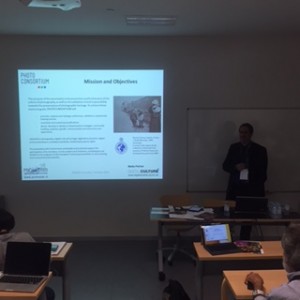 In the major framework of such an important event, this panel, taking place on 1st October 2015, offered an overview of initiatives and EU projects Europeana Space, RICHES, Civic Epistemologies, PREFORMA, and Photoconsortium and fostered a debate to understand the path towards a more advanced society, that makes use of the full potential of digital technologies to foster cultural and societal progress. The panel was also an unmissable occasion for sharing knowledge and best practices, and was attended by a wide audience of cultural managers, ICT experts, researchers, service providers and other EU projects are warmly invited to attend, for cross-dissemination and networking.
Read about the results of the event here: http://www.digitalmeetsculture.net/article/promoter-panel-dh2015/