Image courtesy of KU Leuven, CC BY-NC
The President of Photoconsortium, prof. Fred Truyen from KU Leuven, is the first of the Visiting European Fellows of the University of Sheffield. He is leading two events at the Sheffield's Centre for Collaborative Research in the Arts and Humanities, in the month of April 2015:
Monday 13th April: Seminar paper: 'All Our Yesterdays': Digitising Early Photographic Heritage for Europeana
Thursday 16th April: Masterclass: Theorising the photographic object in the Age of Big Data
Learn more on: https://www.sheffield.ac.uk/hri/events/talks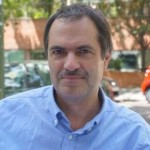 Professor Frederik Truyen is programme director for the MA in Cultural Studies at the Faculty of Arts, KU Leuven. He publishes on E-Learning, ICT Education, Digitisation and Epistemology. He is in charge of CS Digital, the mediaLab of the Institute for Cultural Studies and is involved in many projects on Open Educational Resources (such as Net-CU, OCW EU and LACE) and in the digitisation of Cultural Heritage, such as RICH, EuropeanaPhotography and Europeana Space.