On 7-18 November 2018 in Bry the "Arts and Lights" Festival is organized in the incredible Louis Daguerre's house. Highlights dedicated to photography and its history will be proposed, including and exhibtion, lectures, demonstrations and workshops and the projection of an animated movie on daguerreotypes in 3D directed by Claudia Kunin.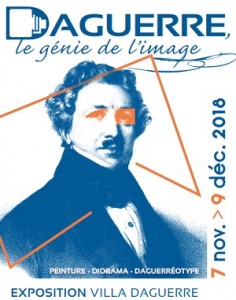 All along this period, exhibitions, events, workshops and eating spots will take place in the park which will be illuminated on that occasion.
On Saturday, November 10 from 9.30 am to 5.30 pm: lectures about the history of photography
– 10 AM: Mike ROBINSON, daguerreotypist, historian and specialist of daguerreotypes conservation: «Daguerre : Lucky or Genius?»
– 11 AM: Grant ROMER, head of the Academy of Archaic Imaging: «More Light. First American Response to the Daguerreotype»
– 2 PM: François BRUNET, professor of History at Diderot Paris 7 University: «The daguerreotype: a technical device for the world»
– 3 PM: Anne CARTIER-BRESSON, National Heritage Department 's curator, former Director of the restoration and preservation workshop of the photography Department of Paris, Jérôme MONNIER, daguerreotypist and restorer of photography: «Why and how to restore the daguerreotype in 2018»
– 4 PM: Heather SHANNON, curator of the photography department of the George Eastman Museum (Rochester, US) gives you the opportunity to discover Bry's archives through her lecture: «Gabriel Cromer and Louis Jacques Mandé Daguerre: a story through collection items»
Lectures in simultaneous translation: French and English. Limited seats available
Free lunch. (on-site dining offer available)
Do you want to make your own daguerreotype? Join our dedicated workshops
On Tuesday, November 13 and Friday, November 16: realization of daguerreotype workshops (400€ a day) with
Mike ROBINSON. Booking at the museum. Limited availability
Feeling like realizing a daguerreotype? Demonstration of how to make a daguerreotype
Will take place on Wednesday, November 14 and Saturday, November 17 with Mike ROBINSON.
Exhibition dedicated to Daguerre – 7 to 9 December
«Daguerre: the image genious», exhibition realized thanks to the Adrien Mentienne's collection
Projection of an animated movie directed by Claudia Kunin: "5 daguerreotypes animated in 3d."
Website: http://www.bry94.fr/Arts-Lumieres.html?lang=fr