source for images and content: Europeana Pro, CC-BY-SA.
Europeana is the European Commission's platform for digital heritage, and works with thousands of European archives, libraries and museums to share cultural heritage for enjoyment, education and research. Via Europeana, everyone can access cultural heritage content online from trusted sources, and this is good for both the visitors/users of Europeana and also for the content holders which are able to showcase their online collections to a vast audience thus increasing their visibility and webpresence.
Operators like Photoconsortium, accredited aggregators for Europeana, help institutions prepare their data and offer them for publication in Europeana within safe online environments, also supporting content holders with appropriate technologies for data exchange, and a good guidance on the technical and conceptual requirements in the preparation of data and metadata to comply with the Europeana Data Model.
This video below, narrated by Henning Scholz, Partner & Operations Manager at Europeana Foundation, is about the relationship between the quality of content/metadata to be offered in Europeana and the impact it can have – the higher the quality of the data, the more benefits can be created. The Europeana Publishing Framework is the reference document created by Europeana to support data publication.
Europeana Publishing Framework: Essence from Europeana on Vimeo.
The content and metadata which institutions can provide for showcase in Europeana will depend on their own agendas and capabilities. However, the higher the quality of information provided, the more benefit created for audiences and the greater the potential reuse in education, research and the creative industries.
To help institutions understand what is meant by 'quality' in the Europeana ecosystem, the Europeana Publishing Framework outlines different layers for content and metadata, which we refer to as 'tiers.' The content tiers were developed in 2015 and the metadata tiers added in 2019. In the tables below, a visual sum up of the requirements for each tier.
EUROPEANA CONTENT TIERS (1, 2, 3, 4)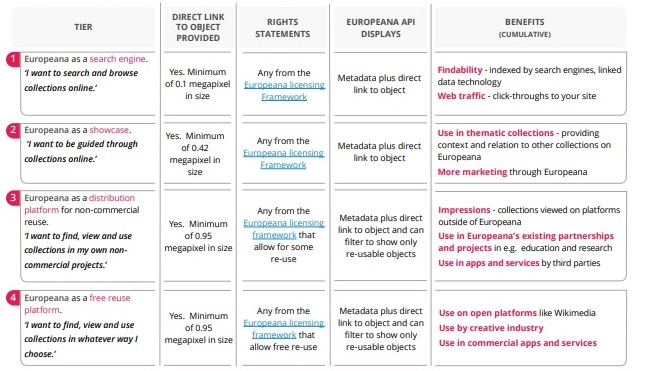 ---
EUROPEANA METADATA TIERS (A,B,C)

Short guidelines:
A dedicated section in the Europeana Pro website offers more comprehensive documentation, good advice and short video explanations about the EPF: https://pro.europeana.eu/post/publishing-framework.
>>>
To learn more about participating in Europeana, and accessing aggregation services and tools, please contact us at Photoconsortium.