On May 22, after the vernissage event in Pisa, the new website dedicated to early photography, curated by PHOTOCONSORTIUM and Europeana, has been publicly launched with a dissemination campain online.
We are proud to report that the feedback we received from the public was overwhelming. It is the most successful launch of a collection that Europeana experienced so far.
Explore the collection at photography.europeana.eu.
The statistics were presented at the PHOTOCONSORTIUM annual event in Girona last week.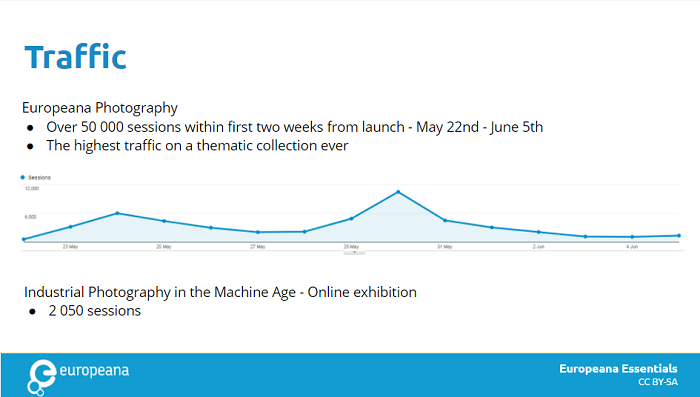 The first virtual exhibition included in the collection, "Industrial Photography in the Machine Age", also provided the PHOTOCONSORTIUM members who collaborated to it with a very good performance in terms of visitors' interaction:
TopFoto – 874 page views
Parisienne de Photo – 399 page views
United Archives – 2316 page views
Generalitat de Catalunya – 415 page views
Ajuntament de Girona – 1120 page views
The Israel Museum – 569 page views
Alinari – 170 page views
Download the full presentation on Europeana Photography statistics (PDF, 1,4 Mb)