image from the Europeana conference in Pamplona, Europeana Twitter profile.
EUreka3D project was presented at the Spanish Presidency Europeana conference, by project coordinator Antonella Fresa on October 17th, 2023. The conference fostered a multidisciplinary dialogue on 3D capacity building for the cultural heritage sector, in order to promote collaboration and networking among key stakeholders and support 3D digitization and sharing for cultural collections, with particular focus of sharing such content in the European Data Space for Cultural Heritage coordinated by Europeana.
The conference was a great success, with many participants both online and live in Pamplona: various questions were raised, stimulating interesting discussion on the many topics around 3D digitisation of cultural heritage collections, such as what technologies are suitable for digitizing different types of objects, where the files and 3D models need to be stored, what information are to be included in the metadata, what IP applies on 3D reproductions and metadata, and most importantly what is the potential reuse of these 3D models: such themes and questions are crucial for the digital transofrmation of cultural and creative sectors, and EUreka3D project aims to contribute to the discussion by trying to identify solutions to these challenges.
EUreka3D partecipated in a panel about IP and copyright for 3D models, by showcasing two case studies on two of the project partners, CRDI (Catalonia, Spain) and CUT (Cyprus), two cutting edge institutions who believe in the value of 3D digitisation of cultural heritage collections, also supporting the Twin It! campaign launched by Europeana.
Firstly, the short talk focused on the actual scenario on cultural heritage, highlighting the challenges faced by institutions in the 3D digitization of cultural collections (such as budget and lack of capacity and technical knowlegde) and in enabling access and reuse of digitized collections in compliance with the national laws on copyright and possible other legal constraints that may apply.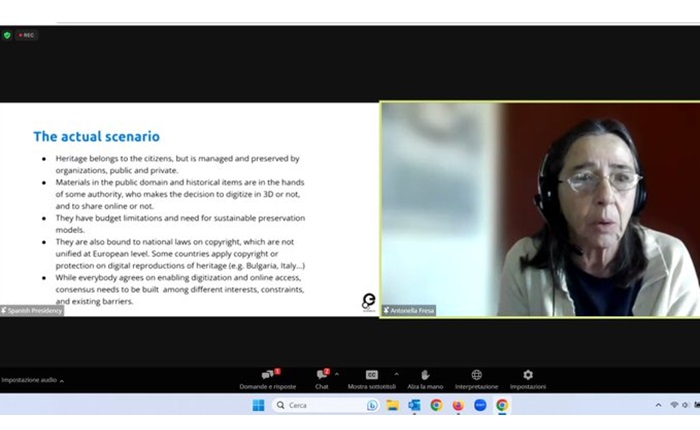 As examples in real context, two cases of digitization and online publication of 3D models for cultural heritage were presented: Lambousa boat from CUT, and Daguerreotypes from CRDI.
The first case concerns the historical fishing boat Lambousa in Cyprus, that was unfortunately docked away in a shipyard, and damaged by weather and sea salt. The boat was recently restored and digitised in 3D: in agreement with the municipality of Limassol, the model will soon be published in Europeana in the context of EUreka3D project, open for reuse in educational and research purposes.
The second case involves one of the best collections of daguerrotypes (examples of early photography dating back to the 1830s) conserved in Girona: given the objects are in the public domain, and that the national laws in Spain do not apply copyright on digital reproductions, the daguerreotypes collection digitized in 3D was published on Europeana under a Public Domain license, and thus available for anyone and any type of reuse.
For more details on Antonella Fresa's speech, download here the PDF of the presentation.
---

EUreka3D project is co-financed by the Digital Europe Programme of the European Union.