img. The photographer Roger Bamber with Banksy graffiti. Credit: Roger Bamber / TopFoto. Location: Brighton, Sussex, United Kingdom England.

>>>> press release by TopFoto
Roger Bamber 1944-2022
It is with deep sadness that we announce the death of award-winning photojournalist, and friend, Roger Bamber, at the age of 78.
Roger's career spanned the golden age of photojournalism, and he was one of its brightest lights – though you wouldn't have known it because he wore his genius modestly and without flash. With an instinct for the surreal and irreverent, much of his best work has a subtle anarchic thread running through it, from Mrs Thatcher mistaking manure for clean straw, to a pantomime cow dancing at the brink of a cliff.
Roger Bamber's work has inspired major exhibitions, front covers, even craft beer cans, and his life's work is soon to be celebrated in a book by Unicorn Publishing Group, expected to be published in May 2023, featuring a large selection of Roger Bamber's work from his extensive archive. The unifying element in all his work is his distinctive graphic style, wry humour and boundless originality, all of which worked across the broad range of publications he filled with punchy pictures which always made the reader look twice and linger.
In his last conversation with TopFoto's Managing Partner, Flora Smith, he happened to mention the pre-digital "beg a neg" system. When a news photographer didn't get a good enough shot they would "beg" a spare negative from another photographer so they didn't have to go back to their editor empty handed.
Some begged negs more than others; Roger Bamber never needed to.
---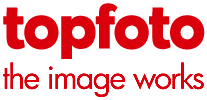 Roger Bamber's copyrights have been acquired by TopFoto – click here  to see a selection of Roger Bamber's work