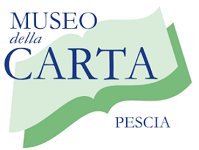 The Museo della Carta (Paper Museum) in Pescia, which has over time become a precious reference point for restorers, scholars, and bibliophiles, is located in an area where paper has been produced since the end of the 15th century. Its main goal is to preserve the ageless art of processing and manufacturing handmade paper and to raise awareness of the importance and evolution of paper production by preserving six centuries of tradition, spreading the culture and knowledge of one of the oldest communication means.
The building where the Paper Museum is located in one of the most important landmarks of industrial archaeology in Italy, Le Carte Paper Mill: the factory produced exclusively handmade paper since its establishment in 1712 until 1992, when it went out of business. Subject to the constraint of the Superintendence of Fine Arts of Florence in 1996, the paper mill was purchased in 2004 by the Pescia ETS Paper Museum Association, and was turned into the actual museum.
The Magnani Historical Archive was donated by Cartiera Magnani 2000 S.p.A. to the Pescia ETS Paper Museum Association in 2004 and is kept in the restored premises of the "Le Carte" paper mill. The Archive is currently being catalogued and once the inventory is complete it will be made available to all scholars and enthusiasts who wish to explore themes and aspects of the history of paper in Italy and beyond.
The Museum is aimed at a wide audience of scholars and students, enthusiasts and anyone else interested. There you can explore the history of paper and learn about its many secrets: from the valuable collection of watermarks to the vintage tools and machinery for the hand-made production of paper.
The collection includes moulds, filigree waxes, punches, metal sheets and stamps for a total of 7,000 pieces, items that have been inventoried and catalogued over the years.
To discover more about Museo della Carta di Pescia, follow this link to the official website.